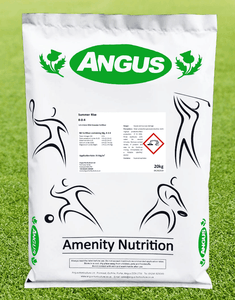 Angus 8-0-4 + 2% Mg + 8% Ca
Rate of Application 35 - 50g/m²
Nutrients applied per m² @ 50g/m² 2g N – 0g P₂O₅ - 4g K₂O + 2g Fe 25kg
Bag treats 500 - 714m²
The Turf Care Range has been specially formulated by Angus Horticulture to give adequate nutrition to all fine turf throughout the growing season. The products in this range are a balanced complex of granules, manufactured for ease of application, keeping plant scorch to a minimum.
The product spreads evenly on exposed areas, whilst monthly applications will help reduce plant stress, with the iron ensuring a rich green colour, and the magnesium along with potassium ensuring good cell structure within the plant, allowing maximum chlorophyll production.
All products in this range are 100% homogenous, meaning that all nutrients are in each granule thus ensuring excellent results.
Suitable for all fine turf areas, including cricket, winter sports and greens.
Please note, due to occasional manufacturing issues, fertilisers may from time to time be substituted for a similar product. Quality will not be compromised.
Thank you, TurfCareShop 
---
We Also Recommend