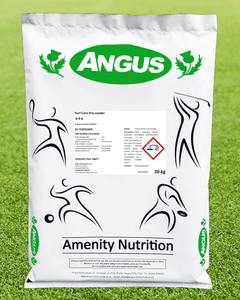 Angus 12-6-6
This product is 100% homogenous, meaning that all the nutrients are in each granule, thus ensuring excellent results!
Application rate:  35-50g/m²
20kg
A high nitrogen (N), balanced phosphorus (P₂O₅) & potassium (K₂O) for general use on coarser grasses and as a general purpose fertiliser for all areas where plant growth is desired.
Please note, due to occasional manufacturing issues, fertilisers may from time to time be substituted for a similar product. Quality will not be compromised.
Thank you, TurfCareShop