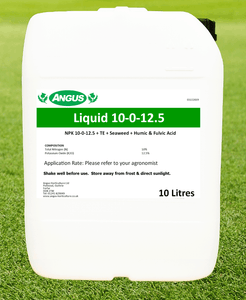 Angus Turf Care 10-0-12.5 + Seaweed & Humates 10L
Turf Care Liquid Standard NPK fertilisers have the perfect formulation product for every season. They are manufactured on-site using high quality raw materials.
Using liquid fertilisers makes feeding through irrigation or spray equipment very easy.
Ureic Nitrogen for foliar uptake and after hydrolysis, readily available in the root zone too.
Chloride free potassium.
Sports Turf - 25-75 litres/ha in 300-600 litres of water
Please note, due to occasional manufacturing issues, fertilisers may from time to time be substituted for a similar product. Quality will not be compromised.
Thank you, TurfCareShop 
---
We Also Recommend